Chris O'Hara makes abstract paintings on a large scale. His work is informed by the time he has spent working and travelling around the world, and by the desire to find peace or meaning in the material world.
Chris's work is generally acrylic based on canvas. His work aspires to engage with the expansion of painting beyond a strict definition of paint applied with a brush. He experiments with materials, adding foreign substances such as coffee, sand and glue to the paint. Along with traditional brushes, he explores mark-making with a range of different tools; serrated knives, trowels and other instruments are included in the process. The work is physical; a culmination of actions and processes are testified to in each piece.
The work process is intuitive and direct; no sketches are made before working. Colour plays a vital role in the work, as a way to convey memories of places and references to different cultures, while also investigating the experiential value of colour. Patterns, shapes, and marks are applied, layered, scraped away, changed and reapplied, the work's visible under-layers alluding to history and time. Patterns suggesting decorative and cultural art from around the world appear and reoccur alongside pure abstraction and sometimes slight figuration in an amalgamation of memory and experience. 
A certificate of authenticity is provided for every painting.
---
Paintings are shipped worldwide using secure, tracked and insured DHL shipping. We've shipped all over the world, to cities like Sydney, Toronto, Copenhagen, Barcelona, London, Edinborough and more.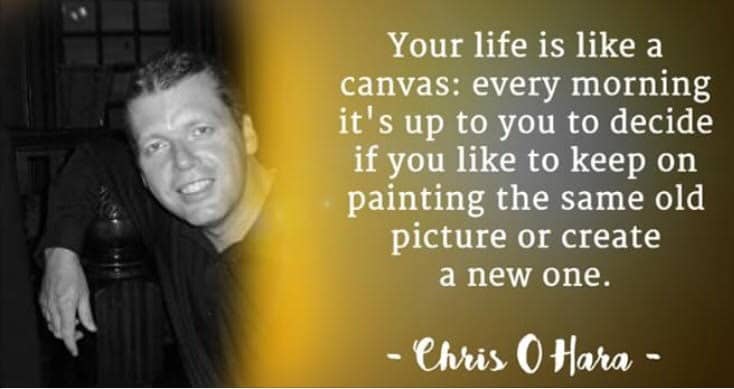 Commissions
Chris specializes in commissioned work for Offices, Public Areas, Restaurants to Home Interiors. To get started on a commissioned painting, please fill in the "Contact Us Form" on the website and administration will reply promptly. As part of the service, Chris can call to your location with a photo album of over 100 photos of his paintings and 10 paintings of various sizes and colours to give you a better idea of what can be tailor-made for you.
Interior design colaboration
Home Interior, Office, Hotel Etc.
It has become abundantly clear that the trend is leaning towards minimal furniture and accessories in a room / space, with neutral colors. And the focus is put on a large abstract painting with a splash of colour
"We are thrilled with our paintings, we commissioned several pieces throughout the house. Chris is an absolute gentleman and a pleasure to deal with… Would highly recommend him…"
"My Mum & Partner gifted me two paintings by Chris O'Hara for my 30th Birthday, I have been following him on Facebook for some time, and admire his work greatly. Delighted to have these two pieces in my new home…"
"Very easy to work with, delighted with our paintings, we got above and beyond what we expected. Very impressed with the attention to detail at the discussion stage…"